Hiring Persons with Disabilities: Resource Book for Employers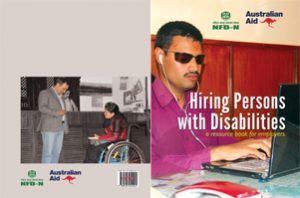 National Federation of the Disabled, Nepal in association with Australian Aid have published this resource book with the aim of supporting employers who are willing to hire persons with disabilities as their employees.
This handbook is an outline that deals with the process and practices in relation to employment opportunities for persons with disabilities in Nepal. The purpose of this handbook is to make the employers aware that persons with disabilities can be equally productive and skillful and contribute to the job market. This new approach for people with disability in employment sector will ensure that disability is not deterrent to get into a regular workforce.
This handbook will be a support tool for creating a work environment in which the interest of employers will be met and inclusion of persons with disabilities in job market will also be promoted.
Download this document in PDF format.
Download Accessible Version of this book in MS Word
Summary
Publication: Hiring Persons with Disabilities
Published by: National Federation of the Disabled, Nepal
Supported by: Australian Aid
Authors: Sagar Prasai, Bishal Dahal, Manish Prasai and Kishor Rijal
Advisor: Shudarson Subedi
Language Editor: Shraddha Pokharel
Layout: Yogesh Khapangi, 9843274745
Cover Photos: Tirtha Maharjan, 9840050082
Printers: Bhojpur Siddhakali Printing Press, 9851098800
ISBN : 978-9937-0-0222-6
First Edition: August, 2016
Pages: 48 + 4 Pages Cover (All Cover)
Please see below to read this document online. It may take upto a minute to load depending upon the speed of your internet.
Download this document in PDF format.
Download Accessible Version of this book in MS Word
Read Online