DESTINATION NEPAL IS FOR ALL!
Inside story
Pankaj Pradhananga
It was 14th May 2014, birthday of Lord Buddha. Nepal was enjoying a public holiday to mark the full-moon day. We were excitedly waiting in Tribhuvan International airport to welcome a globetrotter like no others, Dr. Scott Rains. Scott was traveling solo to Kathmandu all the way from California, San Jose in the USA. His companion was his wheelchair and or courses the best wishes from hundreds of friends across the globe.
Photo: Dr. Scott Rains visited at Bhaktapur Durbar Square
Upon arrival in Kathmandu, he looked tired but was very excited about the idea of visiting the stupa with all seeing eyes of Buddha, the Boudhanath on the auspicious day of Birthday of Lord Buddha. After a few hours of check In, we were in Boudhanath stupa rolling his wheelchair while many Buddhist Pilgrims where rolling the Prayer wheels chanting the famous mantras ' Om Mane Padme Hum'. At the end of the day, his face lit up like the thousands butter land in the stupa. He was super happy to be in Nepal.
I met Scott for the first time in Ed Roberts Center, Berkley–California in July 2013, and it was not just a coincidence. Prior to our meeting, we were connected through the social networking sites. He was known as an eminent expert of the accessible Tourism and the advocate of people with disabilities who was voted as a 'Person of the Year 2009' by new mobility magazine. He had helped number of projects on helping the destinations opening up for accessible tourism to serve better People with disabilities (PWDs). Scott had rolled his wheelchair to many countries. Brazil, Europe, China, India, South East Asia to name a few.
When I arrived at the Ed Roberts center with my nephew, Samit, A very pleasant person on his late 50s was already there to welcome me . He had also invited his friend, a tour operator based on bay area catering to the travelers with disabilities, Mr. Laurent Roff. Three of us got along; we were excited about the idea of opening up Nepal for accessible Tourism. Before we wrapped up the meeting, I asked Scott if he would visit Nepal and help us in gaining a first hand experience of organizing a trip for a person on wheelchair. "I am happy to be 'genie pig' if you invite me for a trip to Nepal" Scott had a soft corner for Nepal. We bought his airticket and looked out for the partners to host his accommodation (Hotel Himalaya, Fulbari resort, Barahi Jungle Lodge and hotel Hyatt Regency).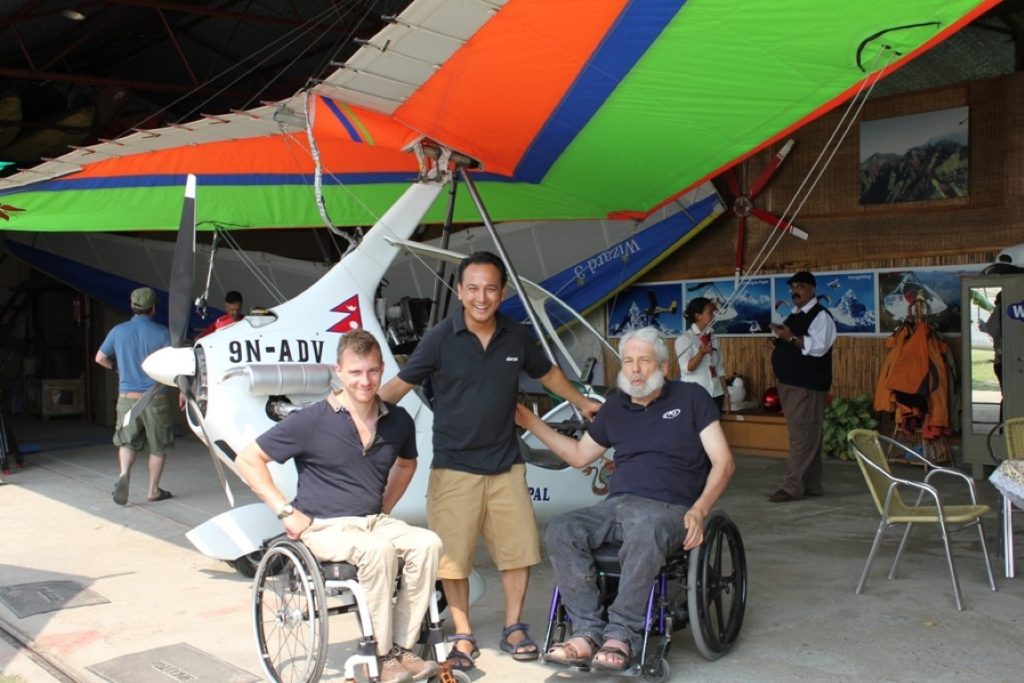 Photo Description: Dr.Scott Rains ready for paraglidig with his friends
Upon arrival after over 17 hrs of flight and travelling solo, Scott chose not to miss the opportunity of speaking to the hotel's management. His feedback and and inputs based on the visual assessment were eye openers to the hotel. How small things matter the most in making the place accessible and wheelchair friendly? The great learning began on the day one.
We started the tour of Kathmandu valley by visiting Boudhanath Stupa, a UNESCO heritage site which was they most happening site on the Buddya Jayanti. As the largest Buddhist stupa in the country was illuminated with butter lamp and many Buddhist pilgrims were seen taking the KORA of the holy site. The sound of prayers by Buddhist monks and frangnace of Juniper leaves made the site vibrant and lively; it was indeed a perfect place to ice break the sightseeing tour of the valley.
More importantly, the walking path around the stupa was accessible to his wheelchair and we also found a fairly accessible restaurant, Flavor where we enjoyed organic Nepalese tea over a warm conversation. I was glad Scott made it to Nepal and it started on a good note. I was also thankful to a local DPO ( Disabled People Organisation) named Center for Independent Living ( CIL) that came forward to provide us with a Trained Personal Attendant in Josh DC. Scott was not just a wheelchair user, his disability was severe as it was a case of spinal injury hence he needed a specially trained attendant. CIL helped us to make his journey a lot more comfortable.
After spending 3 days in Kathmandu doing the sightseeing of the valley, Bhaktapur, Patan and Kathmandu Durbar square, we headed to Chitwan National Park. Scott was fond of wildlife and the idea of seeing animals in wilderness thrilled him the most. Barahi Jungle Lodge did not turn any stone unturned to make his stay comfortable, it made a few temporary ramps to the rooms and public areas. The owner of the Lodge was convinced why he should make the hotel accessible with minor modifications. Aside from organizing an elephant ride in the National Park and bullock Cart ride to the local village, we also planned a step further to create awareness about the potential of accessible Tourism in Nepal.
Hence we organized a workshop in Tigerland Resort which was overwhelmingly participated by the managers and Naturalist/ guides of local jungle lodges. What surprised me the most was the sheer passion of Scott to share his expertise with the participants. At the burning 37degree Celsius of a typical May in Chitwan, Scott did not know when to stop!
Pokhara was the next destination after experiencing Chitwan.
He was very excited about the energy and enthusiasm shown by the participants in Chitwan. Upon arrival in the Fulbari resort, he asked me if he could do a short 'hiking' on his wheelchair. I could just smile at the first place but i realized that he meant it when he opened a packed box which contained an accessory called ' Freewheel' that would give more mobility to the wheelchair allowing it to roll on the dirt road as well.
Josh DC worked almost until midnight to fix the 'Freewheel' based on the manual given, Scott was ready for short hike around Fulbari Resort. After the hike, he had to go to the airport for a real adventure. Pokhara is also known as the capital of air sports as there are many soft adventure that a traveler could enjoy. Be it Ultralight flight, Paraglidig, tandem flight, Pokhara valley offers something to every traveler. You guessed right, Avia club Nepal was kind enough to host him a 30 minutes flight to ensure his rendezvous with the Himalayas, Scott had no words to explain his experience after the flight. All he could say was 'AMAZING'!
Scott demonstrated incredible stamina as he would not get tired despite of waking up early morning for the Ultralight flight. He was ready to conduct a workshop planned for the local hoteliers and Tour guides right after the flight. He just did not show up at Lakeside Retreat hotel, he also invited a few PWDs from the DPOs based in Pokhara .This made the entire workshop more effective and engaging as the hotels could also see how the local PWDs could be their customer if the facilities are made accessible. Interestingly he also managed to roll his wheelchair for a short hike from Fulbari resort after attaching an incredible device 'Freewheel' to his wheelchair. He could not be happier than this in the valley which is also known as the gateway for Annapurna Trekking.
After an amazing experience in Pokhara, we flew by Buddha Air to Kathmandu. Though it was not a very pleasant experience for him because there was ambu-lift in Pokhara Airport hence he was carried to the aircraft. The flight was very smooth with a magnificent view of Mount Fishtail and Annapurna en route; he kept clicking to capture the snowcapped Himalayan Mountains to his DSLR camera.

Photo Description: Dr.Scott was walking on wheelchair to look beautiful sites of nature
Upon his return to Kathmandu, more visits and meetings were awaiting him. Of course, he loved the experience of persuading the policy makers in an interaction program organized in Soaltee hotel. He showed a great enthusiasm while speaking to the audience from various DPOs, he shared his travel experience and encouraged PWDs to raise their voice for right to access and travel in a program organized at US embassy's hall.
Though Scott was travelling solo in this trip, thousands were closely following him through various social network sites. Needless to say, Nepal got a place in many travelers with disabilities bucket list. Nepal offered him a gift in the form of a 10 days trip; Scott helped Nepal to open up for a new segment of Tourism which was totally unknown to many prior to his trip to Nepal. The snowballing effect was visible after his return to the US as he kept writing and connecting Nepal to the prospective travelers.
Unfortunately Scott passed away on the April 30, 2016 losing his battle against the caner, but won the war for travelers with disabilities in giving out a message loud and clear that ' Nepal , despite of infrastructural barriers, is a great destination that no one should miss' . Nepal will always remain indebt to Rolling Rains for his love and affection to Nepal and Nepalis. Every new ramp in the hotel or public place will make him smile because he knew that Travelling was a great treat to the mind, body and soul.
Scott, May your soul remains happy in the new world……. Adios Amigo!!!