Inclusive Tourism : What it means for the persons with disability
Article
Maj. Pawan Ghimire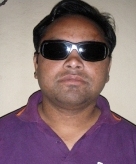 In April 2006, I decided to go for a tour with my friends and that was my first move out of the house for a longer days and the longer distance after my blindness in 2003. Since , it hadn't been long time of my blindness, the same enthusiasm and activeness were still there in me. The very next morning six of us headed to Rasuwa. Being a new blind and moving with my normal peer's issues of disability was not a serious concern to me. The bus we travelled had a congested seats, the hotel we halted for a lunch was completely messed up and where I spent my night was awful. When I could see, I had often used the same services and facilities during my outing so, I didn't realize the difficulties that a person with disability could encounter during their move out.
Few months back ,I happened to attend a talk show on inclusive tourism organized by Four Seasons Tours and Travel at the Hotel Radisson , which forced me to go back to that days of my outing with my friends ten years before. Thanks to the Four seasons Tours and travels for raising the issues of inclusive tourism. In that talk show, I acclaimed them for adding one more season by raising this issues and need of adding another one more season as there happens to be six seasons in Nepali calendar. My view to add the sixth seasons by incorporating people with disability in the tourism sectors as an employee and the employer did bear the significant value in itself.
Inclusive tourism is of course a new raised issue in the field of disability. Nevertheless, its importance to eradicate poverty of persons with disability have been felt crucial since the day of initiation of disability movement in Nepal. However, this issue couldn't take the impetus as it got over shadowed by other fundamental issues of the persons with disability. In the earlier days, the priority of the disabled community was mainly for education, creating awareness and advocating for their rights. As a positive sign of disability movement being launched time to time here in Nepal, significant progresses have been traced out in addressing the needs and issues of persons with the disability.
The ratification of United Nation's Convention on the Right of Persons with Disability in December 2009 by the Nepal Government has also provided ample of spaces for persons with disability to get involved and mainstream their issues. Among the several sectors for the involvement of persons with disability being explored, inclusive tourism known as accessible tourism is also the one. An article thirty of the "UNCRPD" quotes in making public places, amusements and recreational places including tourism services and destinations to be accessible for all kind of persons with disability. According to the European Union's strategy on inclusive tourism, every services and products related to tourism business have to be in a universal design. Thus, at the present context, accessible tourism has to be taken from the human right perspective and stepped with the motto of universal design ahead as well.
The Tourism sectors also have gradually been identified as a potential sector of disability engagement as it is largely associated with the employability and amusement of the disability community. Moreover, word tourism can be disintegrated into two parts i.e. Tour and the ism and the tourist and his ism. If all persons involved in tourism sectors as entrepreneurs or as the tourist can keep up their ism and ethic, inclusive tourism is not a big challenge. A wide thought and the humanitarian aspiration to include persons with disability in tourism sectors through the means of employee, employers and creating a conducive environment to fascinate tourist with disability can really contribute in making the concept of accessible tourism a real. However, since a long time this issue has only remained as talk of the town as attitudinal and structural barriers have always hindered in effective involvement of persons with disability.
Countless number of people with disability is there who bear the capacity to spend lavishly if opportunity is being given. In addition to it, appreciable people with disability do bear the capacity to make investment in the tourism sectors. However, geographical challenges, the lack of accessible tourist buses, hotels, information disseminating system and accessible roads and tracks have been the major causes of distracting the tourist with disability. The persistence of general concept of taking ramps only as the means of accessibility should be modified as blind, low vision, deaf have their own necessities. Guides with enough knowledge on guiding the blind visitors, communicating in sign language with deaf and providing information in Braille, larger front, caustic and sign language can be the best means of attracting people with disability in tourism field.
A businessman of any sectors takes their customers as their God. So why not to accept these people with disability as one of the God. Lets create such an environment and let be blessed. Blessing here means persons with disability recommending or speaking on behalf of the services which aid them in taking the full pleasure of the stay in hotel, using the bus services, enjoying the majestic views regardless of their disabilities. This will of course leave a greater pace that if persons with disability can be satisfied from the services then it is of course accommodative for the elderly and sick people as well. Using Rajesh Hamal or Rekha Thapa might not always work as the brand ambassador of the tourist destinations or the tourist services because the beauty of nature and beauty of human sentiments cannot be compared with the skinny beauty they have. Using the persons with disability as a brand ambassador of the tourism services will definitely add human sentiments and leave good message in the society.
The majestic natural beauty of Nepal that extends from top of the white Himalayas to the footofTerai, Conservation areas, trekking trails and countless numbers of temples have been the major tourist destinations. These locations are not only attracting more numbers of tourists but are equally creating opportunities of employability for both able bodied and persons with disability. However, involvement of persons with disability has been traced out to be in a scanty amount. It's not because persons with disability do not bear capacity to work in tourism sectors or run their business but in fact , it's due to the lack of awareness, favorable working environment and policies in national level .
A collaborative support is thus equally expected from mainstreaming tourism business entrepreneurs to help in providing ample of spaces for persons with disabilities to get involved as an employee and entrepreneur. This can simply be done by making their Organizational policies and business development plans an inclusive one. Opportunities should be given to interested persons with disability as per their physical strength and capability. This trend of working together for a common goal can make the vision of tourism for all come real.
In the context of professional adjustment of persons with disability becoming a great challenge for the Government and persons with disability needing a means of entertain and amusement to come out of the mental stress and trauma they have, situation demands a need of collaborative effort from public and private sectors to convert existing tourism business into an inclusive one. This is not only about respecting the human aspiration of one group but is also about ensuring their fundamental rights as well .
– Ghimire is the president of Cricket Association of the Blind Nepal.