National Federation of the Disabled Nepal (NFDN) convened Three-Day Training on "Disability Inclusion" in partnership with Christian Aid. The event was held from 25th – 27th September, 2019 in Hotel View Bhrikuti, Godawari. The event saw a total of 25 participants (12 male and 13 females) from Christian Aid Nepal and its partner organizations from different districts including some DPOs representatives.
The training prominently aims to build the capacity of Christian Aid and its partner organizations to mainstream the issues of disability into their regular policies, programs and practices. It also contributed to enhance knowledge on disability too the targeted participants, so they could advocate for and technically support for disability-inclusive policy, planning, implementation and monitoring process in their respective areas. The training prominently focused on: I. Concept and approaches of disability; ii) National and international frameworks and policies on disability; iii) different barriers faced by persons with disabilities and potential solutions and iv) Various strategies for mainstreaming disability into the development activities.
Elaborating the objective of this training, Christian Aid program manager, Hari Karki emphasized needs of disability inclusive policy, structures, behaviors and practices. "Inclusion is existing in following to assist in identifying and understanding; where a program is succeeding in providing equal access for persons with disabilities in all thematic program and financial plans, strategy and implementation", he further added.
In the run up to the event, there were different interactive sessions to understand disability inclusion and its various strategies. The sessions were delivered by NFDN president, Mr. Mitralal Sharma, General Secretary, Mr. Raju Basnet, Admin and program Manager, Mr. Manish Prasai and NFDN's program coordinator Mr. Bimal Paudel. The initial sessions mostly focused on what disability is and how persons with disability have face challenges and barriers in our society through role play where participants realized the real picture of our society about forms of discrimination. Similarly, the facilitators clarified the concept of disability, definition and classification from global and national perspectives.
The training event was broadly divided into major eight interactive sessions designed to encourage dialogue, learning experience and exchanges between participants. The three-days training was basically organized in participatory and inclusive approaches. DAD (Describe, Demonstrate and Do) was the principal approach for most of the sessions. After a brief description of the concept/content; game, group work, illustration were used to facilitate the session. Reflective practices were used in most of the time to bring participants back to their job and relate with the learning through the current training. High quality visual (very less PowerPoint), interactive games and presentations, creating some models among the participants were used to make training lively and realistic. The informal discussion and learning sharing opportunities among different organizations were also sufficiently provided to the participants during the training period.
Participants were encouraged to explore different national and international legal provisions on disability (CRPD, Disability Rights Act, Inclusive Education policy, accessibility Guideline and others) and ask them to relate to their own responsibilities. Similarly, participants were also participating in extended sessions beyond the program schedule where they could discuss about the challenges they were facing with. The participants discussed the issues mostly about disability ID card and disability allowance.
In the final session of the event, all the participants were requested to prepare the action plan in translating the learning into their own work. The participants prepared the organization specific action plans. Each action plan was based on the gaps identified during the preceding session where the same group worked on. The All organizations presented their own action plans. The team of facilitators also gave some feedback/suggestions to their ideas. Mr. Bimal Paudel also suggested all of them to prepare more practical plans after going back to their own organizations even getting the feedback/consensus from other team members as well. Finally, the team of facilitators distributed the certificates to all the participants following a motivational remarks of Mr. Karki from Christian Aid.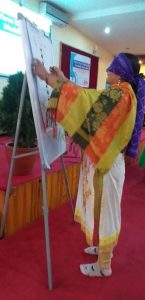 In the closing session, participants marked on moodometer as regular task they did at the end of all three days. The moodometer showed that Most of the participants were satisfied and happy in terms of contents and methodologies. Among participants, two participants, a male and a female representatives also shared their learning and overall training experience during the closing ceremony. They expressed gratitude for organizing this training which created a platform to understand and realize the issues toward disability inclusion leaving no one behind. They also requested NFDN and Christian Aid to convene similar kinds of programs in days to come as well.
NFDN and Christian Aid office will regularly make follow up of the action plans that each organization had individually prepared at the end of the training. Christian Aid office may explore the technical gaps through the regular monitoring. It may further try to provide with the relevant technical backstopping as and when needed. It is recommended that it would be nice to provide them refresher training at least biannual or annual basis.
Some Other photos of Training: